Servicing And Maintenance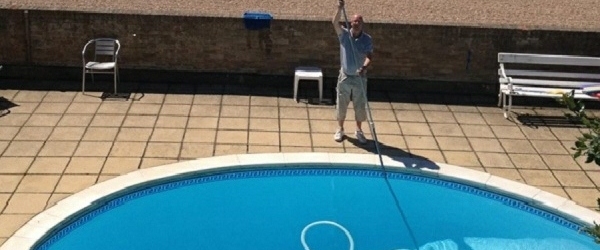 Love your pool and it'll love you back
If you love your pool but don't love maintaining it, you may find it will not be the enjoyable, relaxing addition to your home that you dreamed of. Instead of cursing the day you made that investment, take the easy route and outsource the maintenance to the experts – us.
Choose from weekly, fortnightly, monthly packages to keep your pool in tip top condition, freeing you from the drudge and make owning a pool easy.
You'll be looked after by one of our friendly and knowledgeable engineers who will keep your pool free from debris, make sure the water is just right and keep an eye on the working parts to keep repairs to a minimum.
Pick the package to suit you
Weekly visit from £60 per visit
Fortnightly visit from £80 per visit
Monthly visit from £100 per visit
Our trained, experienced swimming technicians can get your your swimming pool or filtration equipment back to shape!
If you need a call out for the following please contact us:
Green Pool
Leaking pool
Filter or pump broken down
Help with getting your pool ready for the season (Spring open up service)
Help with closing down you pool for the Winter (Winter closures)
Pool treatment advise
Pool consultation
Renovations and repair to pool, surrounds copings etc!
No job is to large or small!
Give one of our friendly team a call on on 01233 639333
With our help you can be enjoying your pool for years to come.
Swimming Pool Water Maintenance
Wouldn't it be great if there was a simple, fast and free way to diagnose the problems affecting the water in your swimming pool, spa or hot tub and an expert on hand to help you fix it effectively and for good?

As clear water champions we are here to take the hassle out of keeping your water sparkling and crystal clear. Simply bring us a sample of pool water, and we'll help you remedy it quickly, so you can get back to the important business of having fun and relaxing!

Pop in to the showroom now for down to earth, practical and friendly advice for the right treatments, advice on how to only use just enough and tips on how to maintain your pool all year round for maximum enjoyment, minimum maintenance.